Moving to Queens? 15 Reasons Why You Should Move to Queens
Moving to Queens? 15 Reasons Why You Should Move to Queens
Is Queens really that interesting?
Chances are if you clicked on this article, you need to be convinced Queens New York is worth the trip. The common misconception is that there isn't much to see or experience outside of Manhattan.
Most tourists who visit New York actually skip Queens! It's an absolute shame: Lonely Planet didn't name Queens its top place to visit in 2015 by accident! New York's largest borough by area has almost too much to offer those willing to explore its vast confines.
But a weeklong trip simply doesn't do Queens justice: you need to live here to really appreciate this magnificent slice of New York, plus the people who call it home. Rare in today's NYC, there's truly somewhere for everyone: neighborhood types, cultures, weekend activities, and, obviously, great food. Whether you want the hustle or need an escape, Queens has you covered.
Simply, Queens should rank high on your list if you're considering a move to the Big Apple (or live here already.) So what's the right neighborhood for you? Pick whatever checks off the most boxes. Trust me, they'll be plenty of places to choose from.
Why does Queens look like, well, Queens?
Queens could be a city in its own right, which, given its history, makes sense! Queens was a completely separate entity until 1898, when the western towns of Queens County joined New York City, and the eastern ones became suburban Nassau County.
If you look at a map, Queens doesn't have a planned grid-like Manhattan. Instead, it's a series of local experiences. Main streets, particularly in the eastern part of the borough, meander through areas that were once farmland. Smaller street plans fill in blanks between these boulevards and green spaces.
Like in Brooklyn, developers have always seen an untapped opportunity here, but just a bit later than the rest of New York City. Around the time Queens joined Greater New York, private developers carved up different areas, so different neighborhoods across the borough retain a certain character even as groups have moved in and out.
The population in Queens exploded from 150,000 in 1900 to 1.5 million in 1950, then up to 2 million in 1970. After a drop in the 70s and 80s, Queens grew again until 2000, settling in at 2.2 million for a decade. Today, Queens is simply booming with growing population, real estate investment, and public exposure! You're thinking of a move just as Queens is on the upswing.
Queens neighborhood map
(Photo courtesy of Reddit)
Quick facts
Demographics (among NYC boroughs and if it were its own US city):
Population: 2.35 million (2nd in NYC, 4th in the country if it were its own city)
Area: 108.5 square miles (1st in NYC)
Population density: 21,650 people/square mile (4th in NYC, 16th of all places in the US)
Home value and sale prices
Median home value: $642,700 (6.9% increase from 2017)
Median list price per square foot: $508
Median listing price: $599,000
Median rent price: $2,300
The whole world is Queens!
The Unisphere in Flushing Meadows-Corona Park (more on the park later)
Looking for international cultures, a true melting pot, or simply good food? Queens is for you!
Without exaggeration, Queens is one of the most diverse places on the planet. Many New Yorkers are transplants from other parts of America. Queens takes that to another level: Half of its residents were born in a different country. Today, with over 160 languages officially spoken (and likely many more), Queens is considered the language capital of the world.
New York, as a whole, struggles with discrimination and issues of community identity. Queens isn't immune to these challenges but embraces change and multiculturalism, so it's generally more welcoming to outsiders. Plenty of ethnic enclaves have been around for decades, while new ones grow pretty quickly. Put 'Little' in front of a country, and odds are, you'll find it in Queens.
Actually, you probably wouldn't have to look beyond a dense stretch of Western Queens, from Corona through Jackson Heights and Elmhurst, into Woodside and Astoria. You could basically tour the whole world in just those five neighborhoods.
Greeks in Astoria are less dominant than they once were but are still a community mainstay. If you're looking for the best Greek food in the city, take a stroll on Ditmars Boulevard. Nowadays, Greeks mix with Maltese, Spanish, and Croats, plus Middle Eastern, Balkan, and Mediterranean Muslim communities. Not many places can claim to have a Little Egypt and a Little Morocco.
Mombar Restaurant, Little Egypt (Photo courtesy of I May Roam)
Latinx communities are growing in this area of Queens. Feeling South America? Head to the Brazilian section of Astoria, or maybe the Colombian and Argentine areas in Jackson Heights. You can grab terrific El Salvadoran cuisine there, too. Dominicans call Woodside home, with smaller numbers in Corona, an area most locals associate with Mexicans who continue to emigrate there. Corona has terrific street food, plus local staple Lemon Ice King on 108th Street, a vestige of when the neighborhood was more Italian in character.
Not far away in Queens (but certainly hailing from far across the world) are South Asian and Himalayan communities. There's terrific Indian food along the famed 74th Street shopping strip (try Jackson Diner), plus Tibetan at Cholyum, and Nepalan across the neighborhood. Southeast Asian and Pacific Islander neighborhoods also abound, like Little Manila in Woodside.
Larger communities have thrived in Queens for decades. Breezy Point is almost entirely Irish, and, along with its neighbors in the Rockaways, hosts a huge parade two Saturday's before St. Patrick's Day. Howard Beach and Ozone Park remain Italian as ever, with some of the best Italian food anywhere in the Five Boroughs. Black and Afro-Caribbean communities dominate Southeast Queens; among them, a new Guyanese enclave in South Ozone Park, and Haitians in Hollis. The Jewish community of Forest Hills, including Bukharan Jews hailing from present-day Iran, has been present for nearly a century.
Lunar New Year Parade, Flushing (Photo courtesy of NYC.gov)
The biggest Chinese population in New York is not in Chinatown: it's in Queens, split between the traditional Chinese anchor in Flushing and a growing community in Elmhurst. Flushing has a particularly diverse East Asian community. Along Flushing's bustling Main Street, most storefronts appear to be in Mandarin, but don't let that fool you: hard-to-find Chinese regional cuisines prevail here. Not enough diversity? There's a massive, growing Koreatown next door, sprawling from Flushing through Murray Hill, Auburndale, Bayside, Douglaston and Little Neck.
South Asians have also found a home for themselves in Northeast Queens. Bellerose and Floral Park are among the most South Asian areas in America. Just in the last decade, Hillside Avenue transformed into a myriad of Indian and Pakistani shops and restaurants.
It's pretty remarkable how quickly the area has changed, but that's Queens. The world is welcome here: have fun exploring it!
Looking for city life? Here's your density.
ALTA LIC, Long Island City (Photo courtesy of ALTA LIC)
Don't want a car? For many places in Queens you don't need one!
Contrary to popular belief, you can find a very urban lifestyle in Queens. It's very much part of New York. Even though it's only the 16th densest place in the country, Queens is still real dense.
Most of the dense options are in Western Queens, closer to hyper-dense Manhattan and rapidly-developing areas along the Brooklyn waterfront. Depending on where you are, it can be more traditional or modern, geared towards young people or families, excitement, or business.
Long Island City (pictured above) has added the most residential units of anywhere in the Five Boroughs. For two decades, the only big building around was the Citigroup Building, but in the last five years, one glass skyrise after the other has shot up. Luxury apartments dominate the new units, standing in stark contrast to the Queensbridge public housing development along the waterfront. The city is deliberately making LIC more livable with neighborhood amenities and transit access. Combined with an already-thriving arts scene (more on that later), there's a lot packed into this once gritty neighborhood.
Right next door is Astoria. Here, you'll find one of the, if not the, hottest neighborhoods for young professionals in New York. It's trendy, cool and all the rest, plus scattered with budget-friendly dining options. Astoria's had trouble adding housing stock lately since there's a large swath of single or two-family homes that are hard to redevelop. Still, there are plenty of apartments for rent in this small business-oriented neighborhood. The housing stock and neighborhood layout is similar in Jackson Heights. It's not quite as trendy as Astoria, but isn't as gentrified, either. Plus, it surely isn't lacking in excitement and community feel.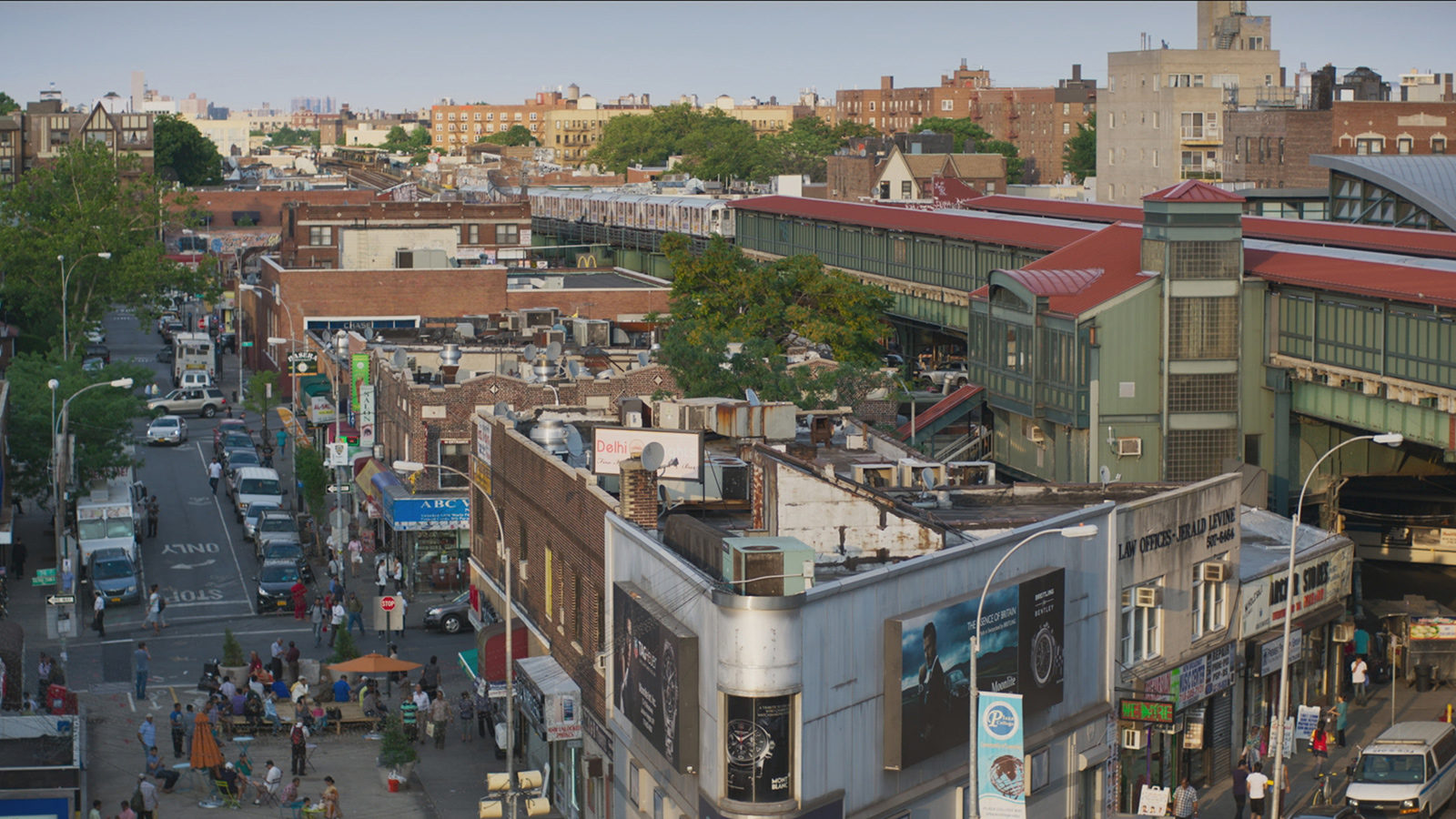 Jackson Heights (Photo courtesy of Film Comment)
So, guess where the densest place in New York City is? That's (not) right, it's Corona! Coming in at over 200,000 residents per square mile. If you want a lot of neighbors, Corona's got a whole lot of them!
Corona and East Elmhurst are remarkably walkable and overflowing with interesting storefronts. Further down the 7 Line, you'll find Flushing, where development is clustered around Main Street. Both Corona and Flushing have a mix of mid-rise apartment blocks, co-ops, and subdivided low rise houses. There are also new developments in the area, but renovations drive the majority of new units on the market. Jamaica—in terms of a dense downtown, housing stock, transit access, and new development—is more similar to Flushing. You'll find tons of shopping and small businesses there, as well.
Queens has a few areas you wouldn't think of as dense but actually are. Woodhaven, with its mix of row houses, apartment buildings, and single-family homes, is one of them. Nearby, Rego Park's mix leans apartment buildings, with a side of delis, Russian supermarkets, and Central Asian cuisine.
If you're looking for it, parts of Forest Hills also score highly in density. Forest Hills has a concentrated business and restaurant district around its main train station, which serves the E, F, M and R subway lines, plus the Long Island Rail Road. Most high-rise apartment buildings in Forest Hills are along Queens Boulevard within walking distance of the trains. You'll find cozy apartments and spacious co-ops scattered throughout the high rises.
But I want space! More space!
Forest Hills Gardens
Don't worry! The rumors are true: you can escape the cramped city life in Queens! Just like it's easy to find dense neighborhoods, there's plenty of space to come by in the city's largest borough. You'll certainly find the most space in Northeast Queens and Southeast Queens. But, there are pockets throughout Central Queens, and hidden gems in Western Queens, that certainly should grab your attention.
The last section left off on Forest Hills. Good news for this section: Forest Hills has got some of the largest lots in New York City! As you can see from the photo above, the narrow, serene streets with dense tree cover lends a suburban feel. The stunning Tudor houses don't hurt, either. It's one of the few planned neighborhoods in Queens, which you'll realize with its curved, radiating street plan that sticks out from a potpourri of grids. It has strong community organizations, reminiscent of Long Island communities much further from the subway.
Several miles east, you'll find Jamaica Estates. It's quite similar to Forest Hills in demographics and aesthetics, but with fewer community benefits and a longer subway ride into Manhattan. Still, the neighborhood is remarkably charming, and if you drive, it's a straightforward commute. (Well, as straightforward as driving in New York can be.)
Speaking of driving, you'll likely need a car if you opt for far Eastern Queens. Unless you're a local, it's legitimately hard to spot the border between Queens and Nassau County. Depending on what you're looking for and your price range, different neighborhoods here may be a great fit.
Douglaston (Photo courtesy of The Wall Street Journal)
In the extreme northeast is Douglaston. Its notoriously cheap movie theater stands in stark contrast to an otherwise upper-class vibe. Douglaston has terrific public schools, Italian restaurants, country clubs, large plots, and waterfront access to Little Neck Bay. You wouldn't expect this small-town feel, or Douglaston's ritzy quarter, dubbed 'the Manor', to exist in Queens. Whitestone, an upper-middle-class neighborhood along the Long Island Sound, is like the less opulent areas of Douglaston, as is Bay Terrace, just to Douglaston's west.
A middle-class belt stretches from Bayside and Fresh Meadows east to Bellerose, Glen Oaks, and Floral Park. Here, you'll find plenty of single-family homes, playgrounds, and shopping centers, like on 188th Street in Fresh Meadows. If you're looking to start a family, this area of Queens might be for you.
Maybe you want to be a little closer to Manhattan? If so, Glendale and Middle Village could be your answer. Like Forest Hills and Repo Park, they're tucked next to wooded Forest Park. Glendale is a bit more suburban in feel than Middle Village, since the former has tree-lined streets and historic districts, while the latter has rowhomes interspersed with single-family lots.
Looking even further west? Check out Maspeth. It's a proud place with old-school charm. Commercial areas along Newtown Creek can turn off some prospective residents, but there's a significant stock of older single-family homes, plus a strong community sentiment. Family-owned restaurants and shops line Grand Avenue, uncommon in a borough with such rapid change.
There's plenty of space: find yours!
Looking for authentic New York? It's still in Queens
Woodside (Photo courtesy of AM New York)
If the neighborhood-by-neighborhood wasn't breakdown didn't make this clear, Queens is full of tight-knit communities interwoven with melting pots. It's where the world comes to live, people write their own stories, and local culture erupts. Locals walk to delis, bagel shops and pizzerias. If that doesn't sound like New York to you, what will? Maybe a thick accent?
Neighborhoods across the city are losing their character and links to the past. It's different here with such pride attached to living in Queens and strong community ties. Queens is quite willing to change and embrace the world, and its dense neighborhoods (Corona, Astoria, Flushing, Jackson Heights) retain many of the characteristics that are dubbed quintessential New York.
In less dense areas, old-school, small-town feels, like Maspeth and Douglaston, prevail. Neighbors double as a family since many have relatives nearby or family friends that stretch generations back. Bayside in Northeast Queens, where shop and bar owners along Bell Boulevard all know each other, is a terrific example
Part of what keeps generations of New Yorkers in Queens is that buying a home here has proven to be a terrific long term investment. But the pride of being from Queens is a serious call.
The views are a good draw, too
Hunters Point South Park (Photo courtesy of the Times-Ledger)
You'll like what you see in Queens, but looking from Queens out onto the water is pretty amazing. Remember, Queens is on an island, and it's got stunning waterfronts along the west, north, and southeast.
If you're gazing westward, you may notice a few buildings. They tend to be well lit at night.
Jokes aside, Long Island City might have the best views of Manhattan. If you choose to move into LIC, you'll have a far better view than the average Queens resident. Just visiting LIC? There tons of rooftop bars and restaurants in the area. For a relaxed budget, don't worry: you'll find public waterfront parks for a gaze across the East River, and back at the growing LIC skyline.
The city just finished repurposing industrial land into Hunters Point South Park, which compliments a massive housing redevelopment along the waterfront. It offers "bicycle pathways, fitness equipment for adults, a playground, picnic terraces, wooden seating areas, a kayak launch, and a 30-foot-high cantilevered platform that offers up views of Manhattan." Gantry State Plaza, on the park's northern tip, boasts the iconic Long Island City gantries. It also hosts concerts in spring and summer and is now the official viewing location for the Macy's July 4th fireworks.
Further up the East River waterfront, you'll find sporty Queensbridge Park. The 59th Street Bridge, just south of the park, is a welcome addition to your skyline view. It's a great place for families, with ballfields, playgrounds, and picnic areas. Ralph Demarco Park lines the Astoria waterfront. In addition to bicycling paths and benches, it has the best view of the Hell Gate Bridge, which inspired the world-famous Sydney Harbour Bridge in Australia.
Francis Lewis Park (Photo courtesy of Pintrest)
Queens shares three bridges with the Bronx across the Long Island Sound, and locals enjoy parks with views of the so-called 'Twin Bridges' (Whitestone and Throgs Neck). Francis Lewis Park, tucked under the Whitestone Bridge, is a hidden gem that's terrific for sunset and bocce. The park also has beach access and kayaking, something hard to find across the city.
Fort Totten Park, just east of the Throgs Neck Bridge, is (as the name would suggest) a former Civil War-era military installation. Its pool is a great way to spend a summer day, and, like Francis Lewis Park, you can take canoes out for a spin. Fort Totten has a slightly removed, but still stunning, view of the Throgs Neck. It's a popular bicycling and Instagram destination.
Spacious Parks
Fall foliage in Alley Pond Park (Photo courtesy of NYC Parks)
Fort Totten Park isn't too large on its own. However, it's actually the first in a massive string of parks along the Brooklyn-Queens Greenway. Great bike trails run through open spaces in the eastern half of Queens, then downright through the borough's center en route to Brooklyn.
Alley Pond Park borders Bayside and Douglaston a few miles south of Fort Totten. The 655-acre park (2nd-largest in Queens) straddles a hilly glacial moraine for a distinctly natural setting, filled with trails cutting through forests. If you plopped into the middle of the park, you'd have no clue you were in New York City. Among many things, Alley Pond is famous for its 350-year old tree, the 'Queens Giant', and a massive indoor tennis center.
Bike west from Alley Pond Park along the historic Vanderbilt Motor Parkway, and you'll reach Cunningham Park in Fresh Meadows. Cunningham is half the size of Alley Pond and has similar amenities, with mountain bike trails and tennis. It's a community hub for local baseball leagues, picnics, and barbecues. By Cunningham, the greenbelt across Queens really takes shape; it continues west through Flushing's Kissena Corridor Park and Kissena Park. Weeping willows flank a serene lake at Kissena Park's northern edge, while ballfields adorn the corridor from Cunningham in the east through the park's center.
The western edge of Kissena Corridor borders the Queens Botanical Garden, which doubles as a gate to the largest park in Queens: Flushing Meadows-Corona Park. The northern half of Flushing Meadows is jam-packed with destinations like the 19-acre Queens Zoo and is less nature-driven than an Alley Pond or Cunningham. It was the site of two world's fairs in 1939 and 1964. The latter left us with the Unisphere, that breathtaking sculpture from the beginning of the article!
Bike trails run along two lakes in the southern portion of Flushing Meadows, and Corona residents organize picnics and parties in the park over the weekend. There's plenty more to discuss about Flushing Meadows in the sports and museums sections. For now, know that it's a massive cultural hub!
Forest Park (Photo courtesy of Queens Courier)
If you're looking for more nature, you'll find it in Forest Park along the Brooklyn border. Frederick Law Olmsted (the father of Central and Prospect Parks) designed this 500-acre wooded haven. It's a well-kept secret among local residents, and if you're considering moving into a nearby neighborhood, it can be yours, too. Enjoy the 165 acres of trees and hiking paths, plus a 2,800-person bandshell and 110-acre golf course.
None of this sounds like it should be in the country's largest city—but it is! Astoria Park along the Queens waterfront is another pleasant surprise. Astoria Park has room to wander in the most dense part of Queens, stunning views of the Triboro and Hell Gate Bridges, and the city's oldest and largest public pool. Regardless of where you choose to settle in Queens, they'll be a breath of fresh air waiting for you close by.
Public Beaches
Rockaway Beach (Photo courtesy of Surf Mei Mei)
Just when the outdoor space in Queens seems sufficient, there's the unconquered, sandy territory along the Atlantic Ocean. You'll never be bored here over the summer. Queens is very fortunate to have its own public beaches, plus plenty nearby!
Across Jamaica Bay from 'mainland', Queens are the Rockaways, a cluster of fun-loving surf towns that make for an incredible getaway. From the rest of Queens, you can drive, take a ferry, or take the A Train and hop on a bus. This is the only place in the city to find legitimate surfing since the Rockaways are a massive peninsula jutting out into the ocean. Two slices of the beach are actually restricted for surfers only.
Again, depending on what you're looking for, the Rockaways can be a relaxing experience, or an energizing one. Here's a beach-by-beach guide, confirming that there is, in fact, everything.
If you're lucky enough to stay in the Rockaways over the summer, you can be in for quite the time: some places are simply electric. Beaches closer to the ferry tend to be much busier and filled with vendors. For day-trippers and bar-hoppers, there are tons of spots along the bay and down in Breezy Point.
If you're looking for more of an escape (or just don't want to run into anyone you know), head to Long Island! The most-visited public beach in North America, Jones Beach State Park, is a half-hour drive from the Queens border, and there are six fields (plus a 15,000 person amphitheater) to help spread those visitors out. Robert Moses State Park, 20 minutes east of Jones, is less crowded than Jones Beach and offers stunning views of the Great South Bay and bridges en route to the beach.
Sports events, with a New York twist
Here's Rafael Nadal in Queens! (Photo courtesy of Architizer)
New York sports likes to do things big, and Queens is no exception. You'll find events here that you can't see anywhere else!
Queens is the center of American tennis. For 3 weeks every summer, the world's best come to the USTA National Tennis Center in Flushing Meadows-Corona Park. Its main court, Arthur Ashe Stadium, is the largest tennis-specific stadium in the world. The center was built because the US Open outgrew its old home in Forest Hills, where the Open was held from 1915-1977 and moved to the USTA National Tennis Center in 1978. You don't need to be a tennis aficionado to appreciate a good match or an event this big!
For baseball, take a short ride up to Yankee Stadium in the Bronx. Otherwise, good luck sticking around here: you'll have to settle for the Mets. They play at Citi Field, a beautiful ballpark with delicious food... that's usually empty after Opening Day. Don't blame the passionate fans, many of whom live in Queens: it's hard rooting for consistent disappointment.
One silver lining: the Mets started having concerts after games a few years ago to bring fans into the stadium. They've become such a big hit that recurring acts play every summer, making for great times in the parking lot. Speaking of, Forest Hills Stadium (the US Open's former home) has an incredible, improving summer concert series.
Believe it or not, you can find world-class horse racing in Queens! Aqueduct Racetrack in Ozone Park hosts one of the biggest races on the North American circuit each year, the $1 million Wood Memorial. Looking for THE biggest race each year? The famed Belmont Stakes (the final leg of horse racing's elusive Triple Crown) is right across the Nassau County border in Belmont Park. Construction for the New York Islanders' new arena at Belmont might move the Stakes to Aqueduct for two years. For now, just enjoy the whirlwind of amazing sports events Queens already has to offer.
These perks are affordable!
The rumors are definitely true about New York—it's expensive to live here! New Yorkers are among the most rent-burdened city dwellers in the world, and it's become a major challenge to find affordable housing.
Luckily, if you're looking to settle or relocate to the Big Apple, you'll find that Queens is where you can find the best bang-for-buck. It's a great time to invest in Queens, since home values are on the rise. The longer you wait, the further are going to go up!
By every metric, Queens is less expensive than Brooklyn, and Manhattan isn't even close! The numbers are great whether you're looking to buy or rent.
Here's Queens from earlier:
Median home value: $642,700
Median list price per square foot: $508
Median listing price: $599,000
Median rent price: $2,300
Brooklyn:
Median home value: $783,700 (22% higher)
Median list price per square foot: $713 (40% higher)
Median listing price: $779,000 (30% higher)
Median rent price: $2,500 (9% higher)
Manhattan:
Median home value: $1,282,000 (99% higher)
Median list price per square foot: n/a
Median listing price: $1,699,000 (184% higher
Median rent price: $3,400 (48% higher)
Middle Village, Kew Gardens, and Briarwood, all in Central Queens, are particularly affordable in comparison to similar neighborhoods in Brooklyn. In Eastern Queens, crossing the Nassau border means a massive spike in property taxes, so neighborhoods from Bellerose and Glen Oaks down to Rosedale and Laurelton are steep discounts.
Public transit access
Subway in Long Island City (Photo courtesy of Queens Courier)
Frankly, public transit is usually not a reason why someone would want to live in Queens. Again, this should be considered a misconception. At a closer glance, you'll find that much of the borough has access to public transit and that most areas without it are designed for the car.
For starters: the entire borough is covered by buses, so it's possible to get virtually anywhere on a bus, unlike many places in the country. Plus, the city is expanding express Select Bus Service (SBS) throughout Queens, meaning they'll be faster and more direct routes to Manhattan.
Map of Queens Bus Network (Photo courtesy of Mobile Maplets)
Speaking of, the Long Island Railroad has its largest interchange at Jamaica Station, and all of the lines that sprawl out to Long Island suburbs have stops throughout Eastern Queens (23 of them, in fact). Residents can access Midtown Manhattan and Downtown Brooklyn in 20 minutes from Jamaica. The LIRR is a bit more expensive than the bus or subway, but can be more direct and comfortable.
If there's a stop nearby, however, most people opt for the subway. There are 81 stations in Queens on the A, E, F, M, J, Z, G, N, R, W, G, and 7 lines. Riding in the morning on these lines is often far less chaotic than a comparable train ride in Manhattan, and depending on where you are, it's easy to grab a seat on the way into the city. If you're looking to live near a subway station, now is the best time to invest. Rents are increasing for apartments close to subway stops.
Queens is New York's gateway to the world
TWA Hotel at JFK (Photo courtesy of Curbed NY)
You'll be able to get where you need from wherever you live in Queens! Not only is Queens connected so well with the rest of New York, it's how New Yorkers get to pretty much everywhere else! From the two airports in Queens, you can fly to nearly everywhere in the US (LaGuardia) and the rest of the world (JFK). Most places in the world can't say that, let alone the same area of just one city. It's pretty remarkable!
For most New Yorkers (and out-of-towners catching international flights from JFK), the trek to the airport a challenge. Buses go to both JFK and LaGuardia, and you can take the AirTrain from Jamaica Station. But it's way easier to just be 15 minutes from the airport than 2 hours away! When you live in Queens, catching a flight is a quick ride (assuming you're not trapped in rush hour traffic).
Plus, for local New Yorkers, anything is better than going to New Jersey. Avoid that trip to Newark, and stick in Queens.
The arts scene is somehow underrated
Queens a hidden art treasure, and the Kaufman Arts District in Long Island City is the chest. Founded in 2014, it's the unquestionable heart of a booming arts scene, home to art museums, galleries, and studios. Few places embody a Queens on the rise like the Kaufman Arts District: it builds on a strong legacy, with constant upgrades (like a new music venue opening next year), new community members (Rioult Dance company just moved in) and experimentation.
Steinway & Sons Piano Company in Astoria is part of that legacy. It's the trademark name in piano manufacturing and a community anchor, so much so that the neighborhood Ditmars-Steinway bears its name. There's a growing jazz scene in the area, which wouldn't exist but for the renowned piano company.
The Kaufman Arts District is named after historic Kaufman Studios, which started making feature films a century ago (Goodfellas was filmed here!). Most of the action nowadays is for TV shows, though it offers Broadway shows on Friday nights. That's unlike its larger, more secretive companion Silvercup Studios. Silvercup is most famous as the main set of The Sopranos and Sex and the City, but still churns out plenty of shows today.
Long Island City started the Queens Hip Hop Festival a few years ago as an homage to decades of a thriving hip-hop scene. Queens has consistently churned out big names in the industry who proudly represent their home borough. Among many in the lineage are Run D.M.C., Public Enemy, A Tribe Called Quest, Nas, and LL Cool J. More recent acts 50 Cent and Nicki Minaj are from South Jamaica, the modern hotspot for hip-hop and rap culture.
Also underrated: Nightlife options in Queens
Bohemian Hall, Astoria (Photo courtesy of Travel + Leisure)
Because of how different the parts of Queens are, and how much Queens is growing, the nightlife options are getting better by the day. Some neighborhoods have been local anchors for decades, while others are beginning to become citywide destinations.
Did you know the oldest Beer Garden in New York is in Queens? You can find the 1910s Czech Beer Garden Bohemian Hall in Astoria, considered one of the best outdoor drinking spots in the city. Astoria's also covered in craft beer hangouts, gastropubs, and dance clubs, and it's easy to stroll around from one destination to the next.
Penthouse 808, Long Island City (Photo courtesy of The Ravel Hotel)
Long Island City has taken off as a nightlife destination. Swanky rooftop clubs with stunning views of Manhattan are a major draw, and LIC has become something of a specialty cocktail powerhouse (try out Vista, Penthouse 808, and Dutch Kills). It's also become a center for craft brewery: 7 local breweries call LIC home, and more are on the way. LIC Beer Project and Rockaway are among the top spots.
Austin Street in Forest Hills offers a less pretentious atmosphere with its row of Irish pubs. It's a great place to go bar-hopping and is especially exciting during the US Open. Try Austin Public and Station House for tap beer and lively crowds. Bayside has a similar set up along Bell Boulevard, but it's not well-known to those outside Eastern Queens or Western Nassau. You'll find plenty of local 20-somethings along its strip, with familiar faces behind the bar. The upstairs deck at Bourbon Street is better for older crowds and terrific for private events.
All neighborhoods have their local bars and hangouts, but these are some of the neighborhoods that attract residents from across the borough. Wherever you end up, they'll be places to have a good night out.
Niche Museums will keep you busy
Museum of the Moving Image (Photo courtesy of Leeser)
For some more culturally-enriching activities, Queens will keep you stimulated at its array of high-quality, focused museums. Some acts are the anchor tenants of LIC's arts district, per se, and the others are destinations in and of themselves.
In the Kaufman Arts District, you'll find four completely different, utterly fascinating museums. The Museum of the Moving Image, nestled in Kaufman Studios, is the area's most well-known. Shockingly, it's dedicated to media and appreciating film! Its main exhibition, Behind the Screen, helps visitors understand the creative process behind making images. There's a steady rotation of other exhibits, plus film screenings, panel discussions, and education programs.
The District is a prime destination for contemporary art. MOMA PS1 is one of the largest museums in the country dedicated solely to contemporary art. Founded in 1976, it's the oldest contemporary art exhibitor in the area but continually updates its exhibitions to remain innovative and exciting.
The Noguchi Museum displays famed Japanese sculptor Isamu Noguchi's work, and displays a wide range of his architecture and sculpture collections. Paired with the nearby Socrates Sculpture Park along the waterfront, this part of LIC will keep you enthralled at every turn. Socrates is particularly jarring to outsiders; art installations appeared plopped down at random on the grassy lawns.
Panorama of the City of New York (Photo courtesy of Reddit)
The Queens Museum in Flushing Meadows is the most traditional museum on this list. It has art (though quite different than its LIC companions), but the biggest draw is historical. You'll find models of the 1964 World's Fair and artifacts from it, including the most famous of all the Queens Museum's permanent exhibitions: Panorama of the City of New York. Other family-friendly museums in the borough are the Louis Armstrong House in Corona (former home of the famous jazz musician) and the Queens Farm Museum in Glen Oaks (former farmland with a maze).
The future is bright!
So, we've certainly established Queens is awesome, and is getting more awesome. What else is on the horizon?
In case you missed the news, Amazon is setting up shop in Long Island City. That's a pretty big deal—it's going to make the City and State pour more money into improving Queens. Why did they come to LIC? Besides the 14 reasons already listed, it's a genuine business hub with a massive market of young talent. Media conglomerate Altice (parents of Cablevision) moved their headquarters to LIC, and plenty of other companies will follow suit.
More mega projects are possible, including a long-awaited proposal at Sunnyside Yards to build over the massive railyard. In the next decade, this could transform Sunnyside into a new transport, residential and business hub. For now, we'll have to settle for LIC. On the park's side, the famed New York State Pavilion at the former World's Fair Site in Flushing Meadows is lined up for a renovation, meaning the public can access this structure for the first time in decades.
Oh, the real estate market is booming! Queens is still going to attract young talent, and since it's more affordable than Brooklyn, that share of young talent is going to come in greater numbers. The whole world is still coming to Queens, so neighborhoods may look completely different five years from now, with amazing restaurants popping up on every corner. And, hopefully, you'll be settled into your Queens neighborhood, contributing to an energizing, exciting time in the history of New York City.
Four years ago, Lonely Planet told everyone to visit. Now, it's time to move in and enjoy all those well-kept secrets!
Final Thoughts on Moving to Queens
If you're moving to Queens or are considering it, as you can now see, Queens is truly a fantastic place to live, work, and play. You'll never run out of things to do and there will always be more friendly people to meet. If you're seriously thinking about moving to Queens, or just have a few more questions before deciding, please don't hesitate to contact me with any questions about moving to Queens, area.
Still have questions about a potential move Queens? You can get in touch with me HERE, or shoot me a text at 718-215-0757. I have lived here for 25 years and definitely know a thing or two about Queens. I can provide you with whatever information you're looking for, or at the very least, point you in the direction of where to find it.
If you enjoyed this article, please consider sharing these "15 Reasons Why You Should Consider Moving to Queens" with your friends via social media. Share the love!
Testimonials
" Lev is a top-notch knowledgeable agent that knows how to get a home sold quickly and for the highest price. I have referred him many clients and he has always went above and beyond for all if them. If you need representation in buying he will negotiate the best price for you. He can sell you home through his genius marketing efforts quickly and for the highest price. Call him! "
- Heather C.
" Lev is a highly-skilled, knowledgable professional who knows a lot about the market and works with dedication to help you find the best home for you and your family. He negotiated tirelessly on our behalf and walked us through the process of buying a home. He was always immediately responsive and helped with every part of the process, answered all the questions we had, and went out of his way to make sure we felt comfortable and happy with our purchase. We were very lucky to work with him and highly recommend him to anyone seeking to buy a home! "
- Rachel C.
Previous
Next